Wine Country Travel Guide
Our wine country travel guide includes a completed selection of  hotels, restaurants, wineries and useful travel guides and information regarding  California wine country.
In addition, our editors doted our website with a number of  articles and content pages about  California  wine country to  Guide you through  Napa Valley wineries and history , Sonoma Valley  vineyards and history, and much more regarding the outlaying wine growing regions.

Before your travel to Napa or Sonoma wine country, check out our California wine country Travel Guide and learn more about each growing region (AVA) and location. You can also visit our  travel guide web pages written about each wine  growing region regarding the history, cuisines, hotels , culture and geographical location of  each wine region.  
Looking for a hotel, a hot spring , spa or even a restaurant in the wine country? Well, check our California  wine country Travel Guide and  you  find  the answers.
Napa Valley Wine Country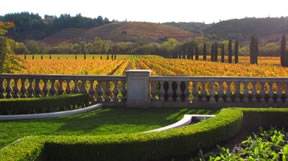 Napa Valley wine country is the wine growing region that extends between San Pablo Bay in the South and Calistoga and Alexander Valley Wine growing region, in the north. The Valley of Napa is surrounded by ranges east-west which shapes the climate and terroir of Napa  Valley wineries and therefore the taste of wines.
Napa Valley  is served by two main highways , 29 and the Silverado wine trail. Most of the wineries are basically located along highway 29 including the famous wineries such Mondavi, Rubbicon, Opus one, Beringer, Sutter Home winery and much more.




There too many wineries and boutique wineries located on both sides of highway 29 that runs north south of Napa Valley. If you drive from the south of Napa Valley you will first travel  through the city of Napa then Youtville, Okaville, Ruthford ,St Helena and then to Calistoga. However, the Silverado wine  trail is a different experience for wine lovers!This wine trail  offers wine lovers and visitors an enjoyable experience a way from the  crowded highway 29 and busy wineries. The Silverado wine trail is usually less crowded and offers gorgeous views over beautiful vineyards .This wine trail is considered as the back roads of Napa Valley. Learn more about Napa Valley wineries, history, restaurants and hot springs.



Looking for combining your wine adventure to Napa Valley with a hot spring or a visit to Calistoga old faithful Geyser? Check out this travel guide and tour to Napa & Calistoga now ….
Napa Valley is home to hundreds of wineries and local vineyards. The trip to Napa Valley is an amazing adventure but overwhelming due to  the number of wineries in Napa Valley. Make your list of wineries you want to visit by wine growing region and wine varietal. Learn more about  or directory of wineries in Napa Valley…
Hotels in Napa Valley can be found by AVA or wine growing region. If you are Looking for a hotel in Napa Valley? You may check out our Napa Valley travel guide and directory of hotels….
Napa Valley offers wine lovers and visitors a great selection of local and international  restaurants. Whether you are looking for a restaurant in Napa, in Yountville, St Helena or in Calistoga, we got a wide selection of restaurants available on our website.  Learn more now…
You can also learn about the history and rich past that made Napa Valley one of the world famous agricultural and Viticulture wine growing region. Learn more now…
There is a wine growing region that extends in southern Sonoma  and Napa Valleys called Domain Carneros wine growing region. This particular wine region is famous for producing best pinots and Chardonnays  in the wine country due to its proximity  to San Pablo Bay. Learn more about Los Carneros wine growing region now…
Yountville is the most elegant town and wine growing region in the wine country.Looking for hotels and restaurants in Yountville? Check out our Yountville restaurants and lodging travel guide. Learn more  now…
Some of the famous wineries in Napa including Mondavi and Rutherford wineries are located in Oakville and Rutherford wine growing regions. Check out our Oakville and Rutherford wine growing region travel guide now…
Are you traveling to St Helena wineries and looking for the best wineries and restaurants to visit in St Helena? Check out our St Helena and Napa Valley  travel guide. Learn more…
Did you know that the Silverado Wine Trail is considered as Napa Valley back road and wine trail?  The Silverado Wine Trail is an amazing and picturesque road  that runs south-north of Napa Valley. Check out the Silverado Wine Trail travel guide to learn more about the wineries located on the Silverado Wine Trail. Learn more now…
We have designed  great maps for each wine growing region including Napa and Sonoma wine growing regions. Check out our wine region maps of Napa and Sonoma among other wine regions travel maps. Learn more…
Other Wine maps are available  for other growing regions including: Alexander Valley Wine Map,  Map of  the Russian River Valley wineries, Anderson Valley and Mendocino Wine Map, Lake County wine map, Livermore Valley  Wine Map and Paso Robles wine map.
Sonoma Valley wineries are located in many AVA or wine growing regions from Carneros in the south to Kenwood in the northern part of Sonoma Valley. Learn more about Sonoma Wineries…
Sonoma Valley is a great place to spend your vacation and summer holidays. You may check out our directory of hotels and motels in Sonoma County and Sonoma Valley. Learn more.. 
The Valley of the Moon offers a great selection of wines and beautiful vineyards. While the Valley of the Moon is located in the green flat valley of Sonoma, Glenn Ellen  wineries  are located in Sonoma Mountain next to Jack London State Park. Learn more..
Check out our Map of Sonoma Wineries to located your wineries before you travel to Sonoma. Learn more
Mendocino wine country is located about 2 hours north of San Francisco. Anderson Valley is the first  wine  growing region visitors see as they drive on highway 28 wine trail to Mendocino. Learn more..
Learn more  about our California wine country travel guide and wineries in Sonoma County….
Healdsburg  wine growing region is located in upper Sonoma County and on the Russian river. Healdsburg is the wine growing region located  between Alexander Valley and Dry Creek Valley. There are small wineries and boutique wineries in Healdsburg. Learn more about Healdsburg…
Wine lovers and visitors who  travel to the wine   country  and visit Sonoma Historic Plaza, can see an old mission that still standing right down town Sonoma Valley. There are 21 missions in California. Mission Sonoma  is the last mission in California. Learn more..
We offer a combo tour to Muir Woods and  wine country. Learn more about  Muir Woods National Park & the tall Redwoods…